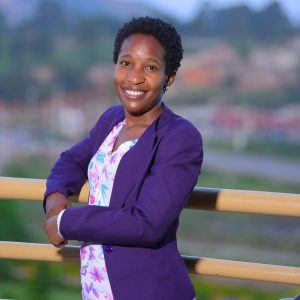 WELCOME MESSAGE FROM THE HEAD OF DEPARTMENT
On behalf of the faculty and the residents of the Department of Emergency Medicine at Mbarara University of Science and Technology, I would like to welcome you to our website. As you read through you will find more information about our department, partners, research, academics and much more. Our department has a great team of dedicated tutors with a wide range of experience. We have four full time local faculty emergency physicians supported by at least six international emergency physicians from the US, UK and Australia. The program prepares residents to become clinical, academic, and service leaders in the field of emergency medicine. To produce highly competent Emergency Physicians, we use a combination of up-to-date academic delivery modes such as simulation, bedside teaching, journal clubs, case presentations, didactics, and others.
Our faculty serves as attending physicians at the Mbarara Regional Referral Hospital, an approximately 350-bed hospital which is the university's primary teaching hospital. It is the largest teaching and referral hospital for south western Uganda, currently serving a population of over four million people around south western Uganda. The hospital also receives patients from neighboring countries like Rwanda and Tanzania
I invite you to look through these pages and learn more about us, our department and our programs. Please do not hesitate to contact us if you need additional information.
Dr. Prisca Kizito
Head of Department..
WELCOME NOTE FROM CHIEF RESIDENT
On behalf of the residents I welcome you to the Department of Emergency Medicine website. As you learn more about the department and what we offer, I hope you also get more insight on student life in Mbarara University specifically as an EM student. Please contact us in case you need more information. Mbarara is a wonderful city for a resident to live in. We have many of the amenities that major cities have to offer restaurants, hostels, hangout places. Beyond the city itself, the people involved with our program really make it a unique and meaningful place to live and learn emergency medicine. As we begin our search for the class of 2022, we invite you to take a moment and explore our website and consider the Mbarara University of Science and Technology as an option for your Emergency Medicine training. We look forward to getting to know all of our new residents and play a part in their professional growth in the coming years.
Dr. Emuron Joseph
Chief Resident..

<blockquote class="twitter-tweet"><p lang="en" dir="ltr">Congratulations to the newest Emergency Physicians in the block, cohort 3 of MUST EM!!! Congratulations!!!! <a href="https://t.co/xPXDdiJvv2″>pic.twitter.com/xPXDdiJvv2</a></p>&mdash; Emergency Medicine- Mbarara University (@MUST_EM) <a href="https://twitter.com/MUST_EM/status/1613135585471758337?ref_src=twsrc%5Etfw">January 11, 2023</a></blockquote> <script async src="https://platform.twitter.com/widgets.js" charset="utf-8″></script>
Collaborations & Partnerships
Seed Global Health
AIM International
Global Emergency Care
Malteser International
Emergency Care of Uganda
Masaka Regional Referral Hospital
Emergency Medical Services Department
Ministry Of Health, Uganda