On 9th November 2022, the Faculty of Medicine welcomed the 9th cohort (18 students) of undergraduate Bachelor of Medicine and Bachelor of Surgery (MBChB) from Somali International University (SIU) for a one-year clinical placement. They will commence their placement at the start of the 2022/2023 academic year in January 2023 studying together with MUST MBR 5 students.
During a brief ceremony held to welcome the students, the Dean of the Faculty of Medicine, Dr Joseph Ngonzi, advised them to be focused, stay humble, make good friends with the local students, consult their seniors (residents), and be respectful of the rules and regulations of the university. He said that the faculty was ready to support their learning process as they rotate in the various departments of the university and teaching hospital.
On his part, the Deputy Dean of the Faculty of Medicine, Dr Jonans Tusiimire, advised the students to master the English language by speaking and reading it continuously, since it is the medium of instruction at the university. This, he said, would enable them to get good grades especially in the theory exams which have tended to pose challenges to some students in previous cohorts. He noted that SIU students have always performed well in the clinical exams and urged the current cohort to emulate them.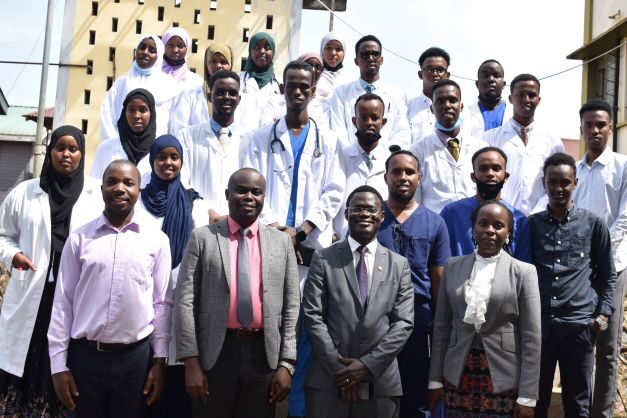 The students were accompanied by Dr Andrew Okello, Director of the Centre for International Programmes and Linkages at SIU. He appreciated MUST and the Faculty of Medicine for always being welcoming and supportive to the students, most of whom have gone on to make significant impacts in the communities, back home in Somalia and elsewhere. He agreed to the faculty's proposal to jointly conduct an impact evaluation study of all the alumni of the past 8 cohorts so as to document and showcase success stories and how this exchange programme has impacted their practice.
As part of their preparations for the academic year scheduled to start on 9th January 2023, the students are having a series of orientation sessions with Ms. Sheila Niinye Twinamatsiko, the International Relations Officer of MUST, to enable them settle in their new environment. During this time, they will also continue to upskill their English language with the help of a professional English language tutor. In the same cohort are 3 other students that will study for a year in the Faculty of Computing and Informatics (FCI).
The entire Faculty of Medicine team wishes all our new students from SIU a very successful year of clinical placement.
Succeed we MUST