The finalist in medical laboratory science at Mulago Uganda Institute of Allied & Health Management Sciences attended a workshop on good clinical laboratory practice from January 3–7, 2023, organized by Mbarara University Medical Laboratory Science Association (UIAHMS).
"Skills refinement for a competitive and sustainable quality medical laboratory output in a resource-constrained environment" was the workshop's theme.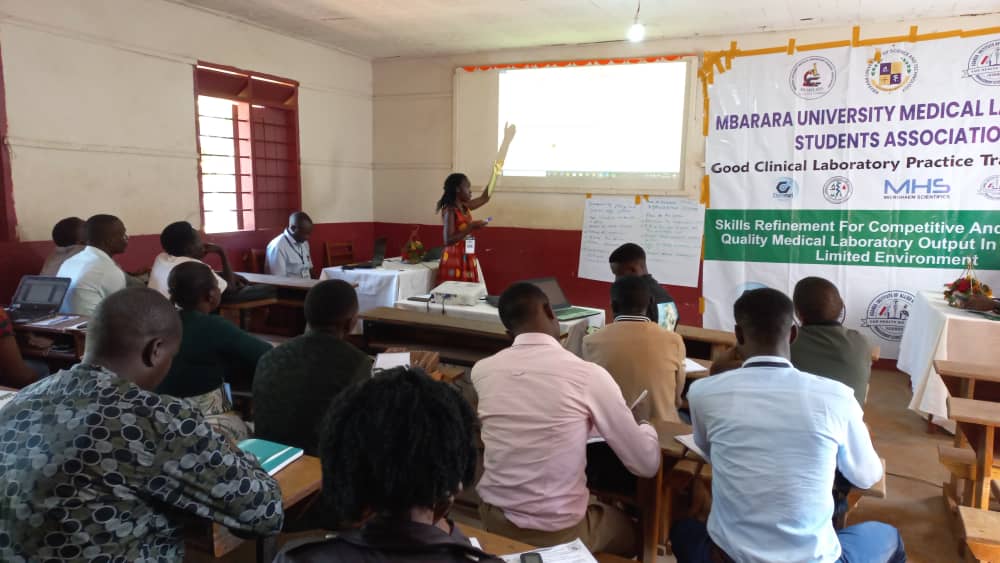 The good clinical laboratory practices (GCLP) workshop has been running for the past twelve years at Mbarara University of Science and Technology. Additionally, it should be mentioned that the workshops have been held online, particularly during the Covid19 lockdown.
GCLP is being hosted at Mulago for the first time, and this training aimed at refining the skills attained. As the medical laboratory science students association of Mbarara University, we value our medical laboratory finalists as well as other laboratory professionals and finalists of sister institutions like UIHMS MULAGO and GCLP. We are pleased to see that it includes an evaluation at the end. Organization and personnel, laboratory equipment, testing facility operations, quality control program, verification of performance specifications, records and reports, specimen transport and management, personnel safety, laboratory information systems, and quality management are the GCLP's core components, all of which are essential to completing the program.
The training aimed the following are objectives;
1. Ensure consistent, reproducible, auditable and reliable laboratory result
2. Ensure the quality and integrity of data.
3. Allow for accurate reconstruction of laboratory experiments performed in the laboratory
4. Monitor data quality and allows comparison of test results regardless of performance location.
This the trainees had a number of expectations they aimed at and these included the following;
1. Acquire skills in line with quality medical laboratory practices
2. Learn the application of different sustainable laboratory practices.
3. Members are updated with the latest laboratory skills.
NB. Laboratory contributes 70% to quality diagnosis and accreditation of laboratories is going to be a must and GCLP training is the key.
Mbarara University Medical Laboratory Science Association thanked the following for enabling this workshop to be a success
1. Dean Faculty of medicine, MUST
2. Principal UIAHMS-MULAGO
3. The Head of department medical laboratory, MUST
4. UIAHMS management
5. The Patron, MUMELASA
6. The MUMELASA leadership especially the GCLP Committee.
5.The different lecturers and organizers in their different capacities